What is the Global Bushcraft Symposium?
The Global Bushcraft Symposium (GBS) is an international gathering to promote bushcraft, survival, and traditional skills instruction through the open exchange of philosophies, pedagogical methods and dissemination of best practices within the industry.  The GBS is open to anyone with a strong interest in these areas but is primarily aimed to be of most value to those who are involved in the instruction, teaching and sharing of the skills and knowledge bases involved.  Each GBS is held in a different location to the last.  In 2022 the GBS will be held in the United Kingdom and this website is dedicated to the 2022 symposium.
How Does The Global Bushcraft Symposium Achieve Its Aims?
By developing connections across generations of instructors and cultures of practice;
Emphasizing the critical importance of teaching accurate, fact based and tested skills in their proper context;
Honouring those who have lived, rediscovered and promoted the traditions before us.
When Is The Next Global Bushcraft Symposium?
27-31 July 2022.
Where Is The Next Global Bushcraft Symposium?
The 2022 GBS will take place at a residential outdoor centre with conference facilities in the United Kingdom.
Get the location information, map and travel options.
More Background On The Global Bushcraft Symposium
The Global Bushcraft Symposium (GBS) lineage goes back to the first International Survival Instructors Conference, held in Jukkasjarvi, Sweden during December 1995. Some of those who participated in the 1995 conference were able to attend the GBS in 2019, namely Lars Fält, Mors Kochanski, Tom Lutyens and Johan Skullman. You can listen to a 2019 panel discussion between them, where they discuss the seminal 1995 event.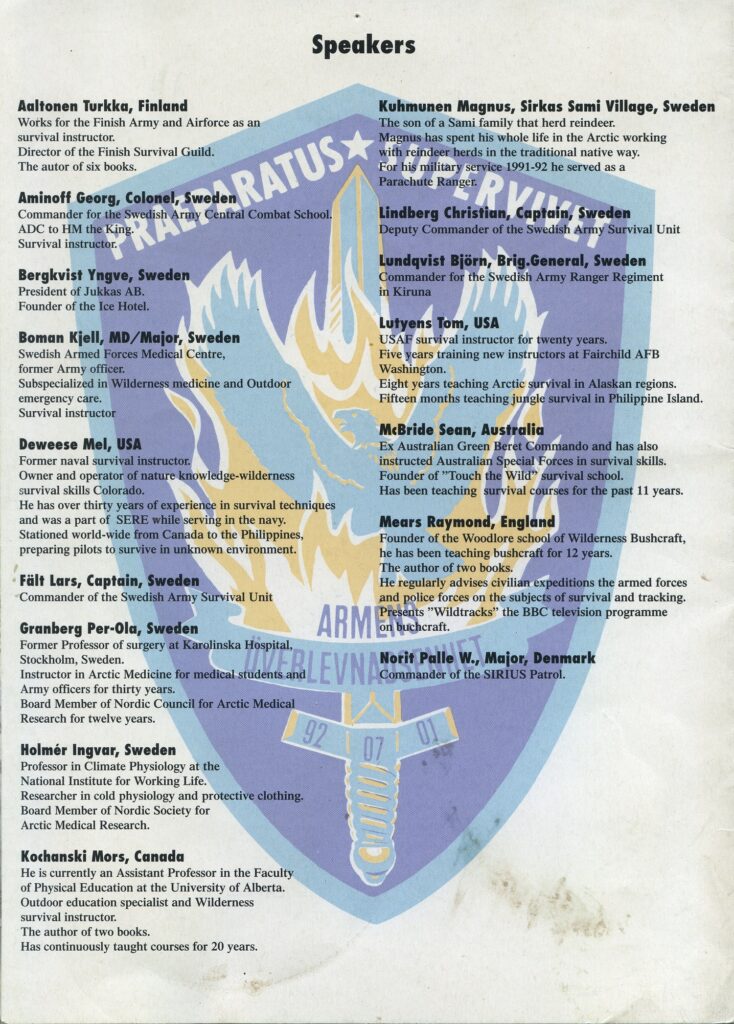 The 2019 Global Bushcraft Symposium was held in Alberta, Canada, in the foothills of the Rocky Mountains. This event was co-chaired by David Delafield and Christian Noble, ably aided by a multi-talented organising comittee. The idea for a Global Bushcraft Symposium in Alberta had been sparked several years before during conversations among those associated with Mors Kochanski and Karamat Wilderness Ways.
In a piece penned by Chris Noble you can read more about some of the thinking behind the 2019 Global Bushcraft Symposium.
This podcast with Mors Kochanski and Jon McArthur recorded prior to the 2019 Global Bushcraft Symposium, explained more about the aims of the GBS and who the GBS is for.
Aditionally, the following conversation between Dale Kiselyk and David Wescott looked to examine why the world needed a Global Bushcraft Symposium…
The Next Global Bushcraft Symposium is 2022…
The 2022 GBS is being co-chaired by Paul Kirtley and Lisa Fenton, who were both keynote speakers at the 2019 GBS. At the end of the 2019 GBS, Paul and Lisa took on the mantle of co-chairing the next GBS, which will be held in the U.K.